Welcome to

Tod Almighty Wholefoods!
Order online
You can now
order online
from us and either collect from the shop or have your order delivered (for a flat fee of just £2.00 if you live within 4km of Todmorden).
Tod Almighty is a new

vegan

*

wholefoods shop on Rochdale Road in Todmorden, just across the road from the Golden Lion pub. We are stuffed to the gunnels with (almost) everything you need for a healthy diet and an ethical lifestyle, including a good range of organic fruit and veg.

We also do MASSES of refills of all descriptions – from washing-up liquid through shampoos to oats and beans – enabling you to reduce your plastic waste. We buy in bulk both for the refill dispensers and for the wholefoods we bag-up ourselves into compostable cellophane bags – so you can always buy a packet to take home.

We have a strong commitment to reducing our plastic waste and are pleased to stock brands that share this ethos. We do veg boxes twice a week and have an arrangement with the wonderful Cargodale people to deliver these and/or groceries by electric bicycle if you want to leave your car at home and do a big shop with us. We also do a LOT of vegan treats, from chocolate to meat replacers – to the fantastic Goji brownies and cakes, which may not necessarily be particularly 'good' for you but are a lot better for the environment and for the animals we aren't eating! And it helps make a vegan lifestyle sustainable and fun for everyone.

We are open 7 DAYS A WEEK, and at the moment allow up to four people in the shop at a time. We ask our customers to wear masks and use the hand sanitiser provided.

There's up to an hour's free parking directly outside the shop. For more details of our stock please check out our Order online page.
*
except for some high welfare local honey.
---
Veganuary – Take the Pledge
Veganuary
has been going strong since 2014 and has supported over 1 million people in 192 countries to try a vegan diet. Many of these folk are now full-time vegans (like me!) who are very glad they did. As participants you get support – with recipes, nutrition data, shopping, networking and other information. In this time of crisis and climate emergency it is even more important that priorities change and people live more sustainable lifestyles. More information:
https://veganuary.com/
Tod Almighty is full of delicious
vegan food
of all descriptions, and all of it can, of course, be part of anyone's diet regardless of how they self-identify. Concern for animal welfare is right up there – along with sustainability, combatting climate change, nutrition, reducing plastic waste and value for money – in our list of main priorities. Plus we are very happy to help with advice and support!
---
Fundraising for the Calderdale Badger Trust
In the run-up to Christmas we were very pleased to sell products like locally made jams, wooden badger tree decorations, cards and facemasks – all from local supporters of the Calderdale Badger Trust. The Trust raises money for the care and vaccination of badgers, so they are less likely to be culled. We are delighted to find that sales have reached £1742 – every penny of which will go straight to benefitting badgers. Thank you so much to everyone who bought something! We will be continuing to support them this year.
---
Organic fruit & veg boxes...
Our organic fruit and/or veg boxes are available for collection or delivery Tuesdays and Fridays.

All our fruit and veg is organic and is mostly supplied by Organic Pantry of Tadcaster, with salad leaves and other seasonal greenery from Will in Cornholme. They are available in sizes of £12, £16, £20 and £25, and can be just veg or a mix of fruit and veg.
We are open 7 days a week...!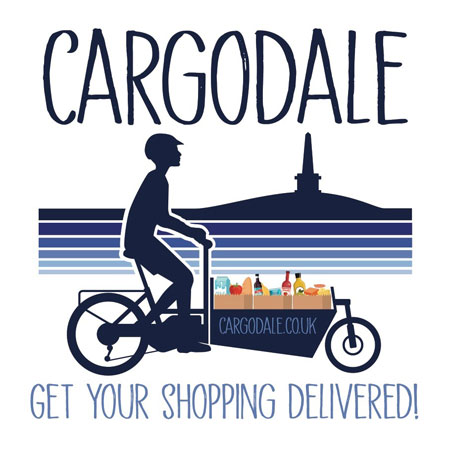 Facemasks have been a legal requirement in all shops in England from the 24th July 2020
, and of course we will comply with the law. Customers who are exempt may enter the shop, but anyone else who prefers not to wear a mask can order by phone or via our '
order online
' page. We can then deliver to you by electric cargo bike (see below), or you can collect your order from the shop entrance.
We are welcoming customers back into the shop, but we would be grateful if you could please keep to the following guidelines:
Please DO NOT come into the shop if you are unwell or have a high temperature.
Only four people in the shop at one time.
Please wear a facemask and spray hand-sanitizer (provided) on your hands when you come in.
Please keep your social distance from other customers and staff.
Please only touch items you intend to buy.
Tod Almighty delivery service!
We have teamed up with the fine folk at Cargodale to offer home delivery by electric bike in the Todmorden area. You can telephone the shop with your order, put an order in online, or come in the shop and do all your shopping, leaving your refills for us... and we will deliver your shopping home for you, hopefully the same day. That means you can leave your car and walk or cycle to the shop, and you don't have to struggle back with all the heavy shopping. Delivery will be
free
if you spend over £30; otherwise it will carry a
£2
charge. We believe this service is even more useful in the new shop now we are offering so many more refills for customers' own containers. Please ask us about it in-store today!
Please also check out our
Facebook
page and review us wherever you can.
Opening Hours and Address
Mondays – Fridays: 9.30am–5.30pm
Saturdays: 9.00am–5.30pm
Sundays: 10.00am–5.00pm
---
22 Rochdale Road, Todmorden
West Yorkshire OL14 7LD, UK
01706 819450
info@todalmighty.co.uk