Welcome to

Tod Almighty Wholefoods!
Are you looking for

refills

,

vegan food

or

organic wholefoods

? Then you're in the right place. We're a shop in Todmorden – on Burnley Road, near the Bus Station and the market. There's up to an hour's free parking directly outside.

We don't currently sell online, but we would be delighted to see you in-store (opening times below).


Coronavirus update
– 24th March 2020
Due to the worsening situation we've had to evolve our business very rapidly...
We are now NOT allowing customers into the shop, although they are very welcome to come to the door and we can walk round the shop for them with a basket and have a conversation about what stock we have and what they might like to buy. Stock levels are very depleted at the moment, although we are hoping for new stock very soon. We are very grateful to our customers for being so patient and forbearing about gaps on the shelves and having to wait their turn outside and with stricter social distancing measures. We are also encouraging customers to ring through orders for either collection or possible delivery.
This dreadful situation has meant that we've had to suspend the 'low plastic waste' side of the business. We were bagging-up dry goods for customers into compostable cellophane – but we just can't keep up with demand. So with great reluctance, grief even, we've decided to go over to buying in 'prepacks' in plastic from our suppliers, hopefully just temporarily! We can still refill household detergents for customers into their own containers.
Every day things change and it's very difficult to keep on top – but we hope to develop a system that's sustainable, relatively safe for customers and ourselves, and where we can manage to stay open 'for the duration'. Thank you.
Please check out our
Facebook
page for the latest information.
Opening Hours and Address
Mondays – Thursdays
: 9.00am–5.00pm
Fridays
: 9.00am–6.00pm
Saturdays
: 9.00am–5.00pm
Sundays
: 10.00am–5.00pm
---
28 Burnley Road, Todmorden
West Yorkshire OL14 5EZ, UK
01706 819450
info@todalmighty.co.uk
Done

?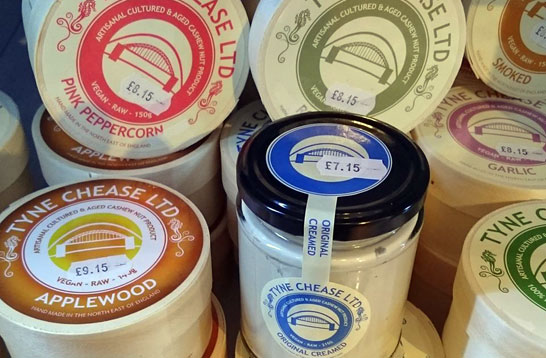 ... Want to keep going...? We can help!
Tod Almighty is positively
BULGING
with scrummy, nutritious and ethical food – all of it vegan (except some high-welfare local honey). We sell all the favourites:
Oatly Barista milk
,
Naturli' butter
,
vegan cheese
of all descriptions,
Sojade
and
Coyo yoghurt
,
vegan haggis
,
tofu
,
tempeh
,
seitan
...
PLUS
a wide variety of tasty treats like
Booja Booja chocolate
and
ice cream
,
biscuits
,
crackers
,
sweets
of all sorts,
Spacebars
,
'Oumph!' kebab strips
,
One Planet Pizza
... the list goes on. There's never been an easier or more fun time to straighten out your diet and go vegan.
You know it makes sense – for your health, for the animals and for the planet!