Welcome to

Tod Almighty Wholefoods!
Order online
You can now
order online
from us and either collect from the shop or have your order delivered (for a flat fee of just £2.00 if you live within 4km of Todmorden).
Tod Almighty is a new

vegan

*

wholefoods shop on Rochdale Road in Todmorden, just across the road from the Golden Lion pub. We are stuffed to the gunnels with (almost) everything you need for a healthy diet and an ethical lifestyle, including a good range of organic fruit and veg.

We also do MASSES of refills of all descriptions – from washing-up liquid through shampoos to oats and beans – enabling you to reduce your plastic waste. We buy in bulk both for the refill dispensers and for the wholefoods we bag-up ourselves into compostable cellophane bags – so you can always buy a packet to take home.

We have a strong commitment to reducing our plastic waste and are pleased to stock brands that share this ethos. We do veg boxes twice a week and have an arrangement with the wonderful Cargodale people to deliver these and/or groceries by electric bicycle if you want to leave your car at home and do a big shop with us. We also do a LOT of vegan treats, from chocolate to meat replacers – to the fantastic Goji brownies and cakes, which may not necessarily be particularly 'good' for you but are a lot better for the environment and for the animals we aren't eating! And it helps make a vegan lifestyle sustainable and fun for everyone.

We are open 7 DAYS A WEEK, and at the moment allow up to four people in the shop at a time. We ask our customers to wear masks and use the hand sanitiser provided.

There's up to an hour's free parking directly outside the shop. For more details of our stock please check out our Order online page.
*
except for some high welfare local honey.
---
CORONAVIRUS PRECAUTIONS
We are open 7 days a week...!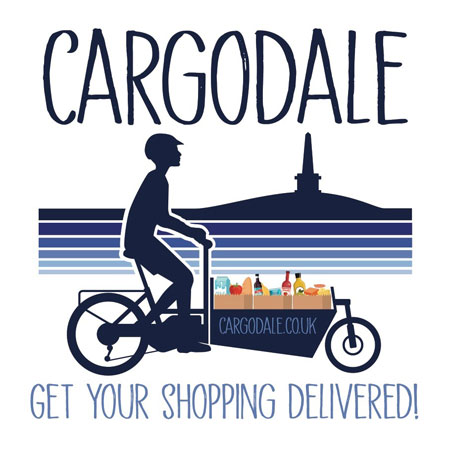 During the pandemic our highest priority is to keep our customers and staff as safe as possible. Please wear a mask in the shop. Only four customers are allowed in the shop at a time. Please use the hand-sanitiser provided and maintain a social distance.

If for any reason you would rather not wear a mask you have several options:
You can order online. You can either collect from the shop door or we can deliver to you locally.
You can phone your order through to us on 01706 819450 and either collect your order from the shop door or we can deliver to you locally.
You can stay outside, give us your order, and we will pick it for you.
You can shop in a private time-slot when the shop is closed between 6.00 and 6.30 in the evening. One member of staff will stay behind to serve you. Please book your time-slot with a member of staff.
Please keep to the following general guidelines:
Please DO NOT come into the shop if you are unwell or have a high temperature.
Only four people in the shop at one time.
Please wear a facemask and spray hand-sanitiser (provided) on your hands when you come in.
Please keep your social distance from other customers and staff.
Please only touch items you intend to buy.
Tod Almighty delivery service!
We have teamed up with the fine folk at Cargodale to offer home delivery by electric bike in the Todmorden area. You can telephone the shop with your order, put an order in online, or come in the shop and do all your shopping, leaving your refills for us... and we will deliver your shopping home for you, hopefully the same day. That means you can leave your car and walk or cycle to the shop, and you don't have to struggle back with all the heavy shopping. Delivery will be
free
if you spend over £30; otherwise it will carry a
£2
charge. We believe this service is even more useful in the new shop now we are offering so many more refills for customers' own containers. Please ask us about it in-store today!
Please also check out our
Facebook
page and review us wherever you can. Stay safe! Thank you
☺
Why buy from a chain store and pay more?
Every one of our organic refills beats Holland & Barrett pre-packs on price.
Say no to plastic and save money! EVERY SINGLE ONE of our ORGANIC dried refills beats our mainstream competitors' pre-packs on price! Mainstream businesses put tiny amounts of wholefoods in single use plastic bags that are mostly full of air. As well as our refills, our pre-packs are also cheaper per kilogram and come in biodegradable packaging that is completely filled with the good stuff! If you refill your own containers you can also buy exactly what you need, reducing the likelihood of food waste. Bring in your containers and bag your own.
STOP PAYING FOR SINGLE-USE PLASTIC AND START REFILLING!
Prices checked 18/03/21 but EVERY organic refill is cheaper with us!
---
Organic fruit & veg boxes...
Our organic fruit and/or veg boxes are available for collection or delivery Tuesdays and Fridays.

All our fruit and veg is organic and is mostly supplied by Organic Pantry of Tadcaster, with salad leaves and other seasonal greenery from Will in Cornholme. They are available in sizes of £12, £16, £20 and £25, and can be just veg or a mix of fruit and veg.
Opening Hours and Address
Mondays – Fridays: 9.30am–5.30pm
Saturdays: 9.00am–5.30pm
Sundays: 10.00am–5.00pm
OPEN AS USUAL OVER THE BANK HOLIDAY
---
22 Rochdale Road, Todmorden
West Yorkshire OL14 7LD, UK
01706 819450
info@todalmighty.co.uk