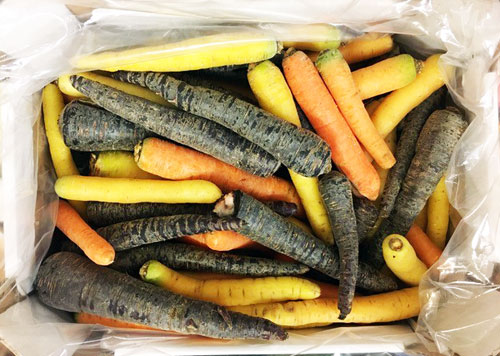 H
ello and welcome to this week's Veg Box Newsletter.
We're so lucky to be able to bring you bountiful boxes full of colourful veg each week. It can be easy to get spooked by the pictures of empty shelves across the country, but our amazing suppliers at Organic North are trucking on and keeping us stocked with beautiful fruit and vegetables.
This week our spotlight is on the humble carrot.
Did you know the carrot hasn't always been orange? For centuries, almost all carrots were yellow, white or purple – you may even have some rainbow carrots in your box this week. The orange colour reportedly came about after Dutch growers cultivated orange carrots especially for the wonderfully named William of Orange, although The World Carrot Museum (!) disputes this claim. Either way, the Dutch do seem to have some connection to the origins of the orange carrot that is so commonly seen today.
That common carrot is full of fibre, which only means good things for your gut and helps keep your blood glucose levels balanced. Like our Hokkaido Squash from a couple of weeks ago, most carrots have the same orange pigment, beta-carotene, which is a super nutrient. And if kids in your household (or yourself) like a bit of mashed carrot, research published in the
European Journal of Nutrition
showed that more beta-carotene was absorbed from cooked, puréed carrots than from raw ones.
While eating carrots can be good for your vision (they are rich vitamin A), the myth that carrots specially improve your eyesight goes back to World War II when a propaganda campaign was rolled out claiming that the pilots' carrot-enriched night vision was the reason they overcame enemy planes. Turns out this was a ruse to cover up the development of new radar technology. Either way though, what an incentive to eat more carrots!
Sally
T:
01706 819450
| E:
VegBoxes@todalmighty.co.uk