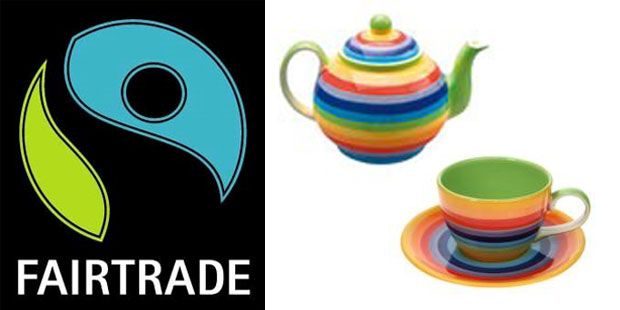 Fair Trade and rainbows
We try to get in as much Fair Trade stock as we can in the shop, so we have quite a lot of the teas, coffees and chocolate that are fairly traded. Plus a few other things like pineapple chunks, rubber gloves and peanut butter. What is Fair Trade? Well, as the Fair Trade Foundation says... "Fairtrade means fairer pay and more power in the hands of farmers, so that they can create change for us all, from investing in climate friendly farming techniques and clean water for their community, to nurturing women leaders and making sure children get an education. When you choose Fairtrade, you're choosing the world you want to see."

It's the classic thing of the pound in your pocket having the potential to profoundly affect people's lives, as well as the environment. It's also 'fair' in that you are paying the price you should for a sustainable product, rather than paying less than it is worth and kicking the cost of the environmental implications down the road for future generations. So, we think it is a JOLLY GOOD THING and there should be more of it all the time there is a need for it. Which there certainly is at the moment, unfortunately.


Which is why I was tempted to try some rather nice 'non food' items of stock for a change. Shared Earth is a company that is dedicated to fair trade and with a mission to '
To improve the livelihoods of disadvantaged people in developing countries, benefiting local community projects and keeping alive traditional skills that would otherwise be lost
.' (read more about them here:
https://www.sharedearth.co.uk/
). And they do a lot of rainbow stuff, and I have been obsessed with rainbows for years and finally everybody else seems to be joining me in my little multi-coloured arching happy space!
So I've taken the plunge and now you can buy all sorts of stuff, from rainbow teapots to jute shopping bags to rag rugs, plus loads of other new stock like incense sticks, essential oil defusers, glass suncatchers, hand carved wooden trivets and coasters, colourful mosaic mirrors, and loads more (see elsewhere on this website) – all made from sustainable or recycled materials and all ideal for a useful and cheering present either to yourself or for some other lucky person.
We all need to keep cheerful!